Ski Racing, the journal of snowsport competition, has great coverage of the U.S. Freestyle National Championships.  Read the story below and online here.
American aerials skiers Emily Cook and Dylan Ferguson [a WVBBTS & Waterville Valley Academy alum] secured national titles today (March 24) to kick off competition at the 2011 U.S. Freestyle National Championships in Stratton Mt., Vermont.
Cook, a two-time Olympian, earned her fifth national title with a score of 140.78 after landing a huge back full, double, full.
"I am really happy with my season. I came into it having made a lot of changes to my jumping and just took it one day at a time from there," said Cook, who grabbed her second career World Cup victory this season in Moscow, Russia. "I am really happy with the progress I am making and to have the results reflect that is amazing."
Ashley Caldwell, who won her first World Cup this season in Lake Placid, finished second with 128.01 points. Alexa Devereaux landed third with 125.50 points to earn her first nationals top-three finish.
"Nationals is all about getting the chance to jump with all of our up-and-comers in the sport, but this year it was also about defending my title against the best in the world," said Cook. "Ashley Caldwell had an amazing season and she definitely was ready to give me a run for it. Also, Alexa Devereaux jumped great today, and we will certainly see more of her in the future. Unfortunately the conditions were a bit tough today, and it wasn't the best jumping I have ever done, but after I big crash in training I was proud to get back up there and get the job done."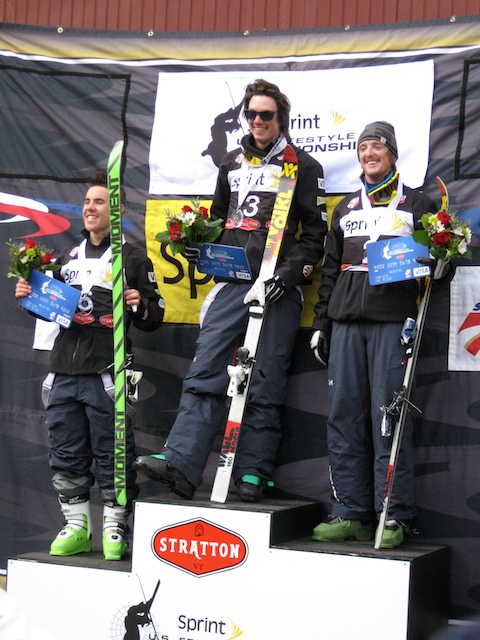 Dylan Ferguson captured the men's title, the first of his career, with the highest scoring jump of the day – a back double full, full, full that earned him 108.37 points to bring his total on the day to  194.65.
"It's pretty crazy, this was my first win," said Ferguson. "I have made the podium several times before at nationals; I was ready for the win."
Scotty Bahrke finished second with 183.46 points ahead of Michael Rossi, who earned his first nationals podium in third place with 172.06 points.
OFFICIAL RESULTS
Sprint U.S. Freestyle Championships
Stratton Mountain, VT – March 24, 2011
Aerials
Men
1. Dylan Ferguson, Amesbury, MA, 194.65
2. Scotty Bahrke, Tahoe City, CA, 183.46
3. Michael Rossi, Califon, NJ, 172.06
4. Mac Bohonnon, Madison, CT, 158.07
5. Nevin Brown, Streetsboro, OH, 157.44
6. Eric Loughran, Pelham, NH, 150.44
7. Alex Bowen, Springville, NY, 143.55
8. Hans Gardner, Orchard Park, NY, 133.64
9. Devon Savino, Canton, CT, 109.86
10. Travis O'Connor, Oxford, NH, 104.65
11. Joseph Kardamis, Chardon, OH, 103.09
12. Jack Boyczuk, Holland, NY, 102.52
13. Alec Carignan, Pelham, NH, 66.69
14. Jonathon Lillis, Pittsford, NY, DNS
Women
1. Emily Cook, Belmont, MA, 140.78
2. Ashley Caldwell, Charleston, SC, 128.01
3. Alexa Devereaux, Park City, UT, 125.50
4. Allison Lee, Manchester, CT, 121.21
5. Kiley McKinnon, Madison, CT, 104.64
6. Jeanee Crane-Mauzy, Waterville Valley, NH, 85.69