by Jan Stearns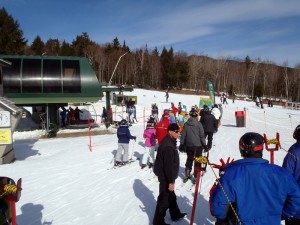 There are many Waterville Valley fans who are quite happy that Mother Nature has kept southern New Hampshire and the Boston region snow-free (until now).  For the diehard ski and snowboard fanatics, it's meant smaller crowds, short lift lines and wide open trails at Waterville Valley.
One such ski fanatic, blogger David Shedd, wrote a great piece about his day trip to Waterville Valley with his 14-year-old son during February vacation week.  "We left only after burning our legs out, happy with a great day on smooth groomers, pushing Dan's limits, and NOT being frustrated by massive crowds during vacation week!  I'll remember this for next year…and, if I'm lucky, nothing will have changed at Waterville Valley."
Read David Shedd's blog here.
Photo: Vacation week? Hard to tell from the lines…this was typical of our day at Waterville Valley!David Shedd Photo