Waterville Valley BBTS alums continue to leave their mark in the skiing world.  Ski Racing reported on Hannah Kearney's end-of-season victories.  Read the story below and online here.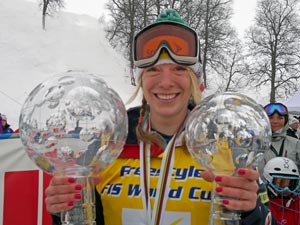 The 2011 World Cup moguls skiing season came to a close today (March 20) in Myrkdalen-Voss, Norway as Freestyle overall and moguls champions American Hannah Kearney (right) and Frenchman Guilbaut Colas ended the season with dual moguls victories.
Kearney powered through four rounds of competition, including a fierce final round with Canadian Jennifer Heil to claim her ninth World Cup win of the season. Kearney sealed the moguls title weeks ago and today boosted her total to 1009 points over Heil in second with 712 points.
"It feels incredible," said Kearney, who earned her first freestyle overall title and second moguls globe. "I should set more goals. I wanted to win both the moguls and the overall but I didn't know I was going to do it by winning nine events. It is really, really satisfying."
It was Heil's last World Cup event. She has announced she will retire after this season, ending her longtime competitive rivalry with Kearney. "I skied today like I have every run of my career. I laid my heart out on the course," said Heil, whose impressive resume includes 25 World Cup wins, two Olympic medals and six World Championship medals. "I have nothing left to do on the hill and that's a beautiful ending for me. I'm so at peace. I know I'll miss the competition and the privilege of representing Canada around the world, but I'm ready to take my passion for challenging my limits and my potential off the slopes."
Canadian women filled the remaining top five spots as Justine Duford-Lapointe, Kristi Richards and Audrey Robichaud finished 3-4-5.
American Heather McPhie finished sixth after being eliminated in the quarterfinal round. Eliza Outrim landed ninth ahead of Heidi Kloser in 13th. McPhie finished fifth in the moguls rankings.
"The course was more difficult after each run," said Kearney of the warm conditions. "Everyone but one person blew out while skiing against me. That was the theme of the day –  the strongest person was going stay with it."
On the men's side, Colas worked his way through a Russian and three Canadians to seal his first career moguls title with 841 points on the season. Young Canadian Mikael Kingsbury finished second today and third on the moguls rankings while his teammate Alexandre Bilodeau, second in the rankings, finished third today.
Canadian Eddie Hicks just missed the podium in fourth ahead of top American Patrick Deneen in fifth. American Jeremy Cota also cracked the top-10 of 20 starters in ninth.
Deneen and Cota also led the U.S. on the moguls rankings board in fourth and fifth, respectively. Both marked career high rankings.
Rounding out the U.S. men today were David DiGravio (Farmington, ME) in 12th, Joe Discoe (Telluride, CO) 13th and Sho Kashima (South Lake Tahoe, CA) 14th.